Video:
Resin Composite Madness: Solutions for Daily Practice
Video Overview
Dental esthetics and minimal invasiveness have become increasingly important during the last decade when considering diagnosis and treatment planning. Nowadays, Composite resins occupy a paramount position among restorative materials because they offer excellent aesthetic potential and acceptable longevity with a much lower cost than equivalent ceramic restorations for the treatment of both anterior and posterior teeth. In addition, composite restorations allow for minimally invasive preparations or no preparation at all when assuming the replacement of decayed or missing tissue becoming a popular alternative to the more traumatizing prosthetic restorations. The aim of this session is: 1. To understand how proper assessment can affect the final outcomes dramatically. 2. To demonstrate how you can achieve repeatable and predictable results using very simple tool. 3. To present different artistic solutions using different modern resin composite systems in both anterior and posterior area.
Presented By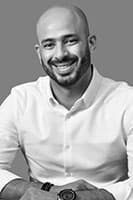 Ahmed Farouk Metwally
Dr. Ahmed Tarek Farouk Restorative and Esthetic Specialist Master Degree in Restorative and Esthetic Dentistry, Faculty of Dentistry, Cairo University Assistant Lecturer a...
See Bio
---