Video:
3D-Bone Regeneration in the Esthetic Zone: Fundamentals, Indications & Surgical Techniques Step-by-Step
Video Overview
The implant treatment on the esthetic zone aims healthy, functional and also esthetic results. In order to obtain an esthetic result is mandatory that the implants are placed in optimal 3D position and completely surrounded by healthy bone. Due to the alveolar ridge destruction caused by trauma and dental or implant infections, often bone availability is not enough to obtain a good esthetic result. In order to treat predictably such cases there are surgical techniques that allow a complete 3D reconstruction of the alveolar ridge. Of all those techniques described to regenerate 3D bone defects (with vertical and horizontal components) there are two that are more supported by scientific literature: Guided Bone Regeneration using PTFE non-resorbable membranes and ultra-fine cortical bone blocks (Khoury´s technique). After a certain healing period, implants can be placed in 3D optimal position. However, if an optimal esthetic result is searched, periodontal plastic techniques have to be also performed. All these topics will be addressed in this lecture presentation.
Presented By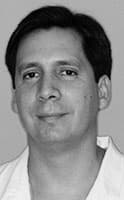 david gonzalez-fernandez
Dr. David González Doctor in Dentistry (PhD) at the University Complutense of Madrid "Sobresaliente cum Laude". Doctoral Thesis: "Risk Factors of Periodontal Disease". Master in Per...
See Bio
---